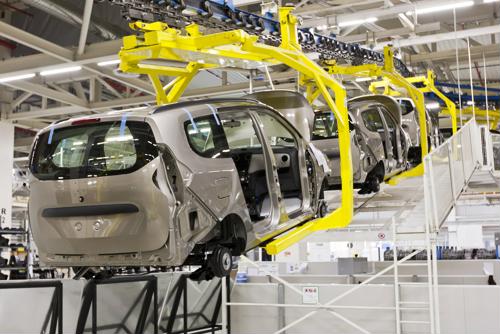 Here are a few stories about the booming U.S. manufacturing and tech sectors that caught our eyes over the last month.
We've heard several exciting stories in the American manufacturing and tech sectors over the last month. Here are a few that really caught our eyes as we make our way through May.
Manufacturing jobs returning to the U.S. at a record pace
The level of optimism surrounding U.S. manufacturing has been rising steadily over the last few years, but there's a new milestone to celebrate. It was recently announced that in 2014, the number of manufacturing jobs returning to the U.S. from overseas was greater than the number of positions outsourced, MarketWatch reported.
About 60,000 manufacturing jobs came to the U.S. last year as a result of reshoring or foreign direct investment in our domestic markets. This is a big jump from where we were about a decade ago, when only 12,000 jobs were added in 2003. On the other side, only 50,000 jobs were offshored last year, down from the 150,000 sent overseas in 2003. This reversal has been a decade in the making and represents a trend back to domestic manufacturing.
"The trend in manufacturing in the U.S. is to source domestically," Harry Moser, president of the Reshoring Institute said to MarketWatch. "With 3 [million] to 4 million manufacturing jobs still offshore, we see huge potential for even more growth."
"About 60,000 manufacturing jobs came to the U.S. last year."
GM prepares to invest in its workforce as manufacturing jobs rise
General Motors recently announced that it was planning a new round of investments in its Pontiac Metal Center located near Lansing, Michigan, the Detroit Free Press reported. This is due to the rising level of manufacturing employment occurring throughout the country. The news source also noted that expansions were also slated for a Cadillac, Yukon and Tahoe plant near Arlington, Texas.
A study from the Center for Automotive Research found that GM provided 51,910 manufacturing jobs at the end of 2014, an increase of 1.8 percent from 2013. Of that number, 16,120 were in Michigan, Ohio had 9,710, Indiana had 7,730 and New York rounded it out with 4,360. While the workforce hasn't reached pre-recession levels just yet, the growth here is an encouraging sign for the recovering auto industry and the American economy as a whole.
Connecticut manufacturer recognized for excellence and commitment to "Made in America"
A local manufacturer has been drawing attention from some high places. The Bristol Press reported that Senator Chris Murphy recently named The Lighting Quotient Inc., a Connecticut-based manufacturer of industrial lighting applications, as a "Monday Manufacturer" - a title that recognizes excellence in manufacturing as well as a dedication to keeping the industry in Connecticut.
The Lighting Quotient has adapted to changing business conditions by producing high-end lighting applications that meet strict sustainability goals and environmental requirements. The company's products have been featured in the White House, the Thomas Jefferson Memorial, the Olympic Visitors' Center and other prestigious sites. Best of all, they've done it the right way - hiring local workers, sourcing local materials and working with over 100 vendors in Connecticut.
"Momentum is building and the time is imminent that state government and all of Connecticut manufacturing stakeholders draw a line in the sand and not allow more of our manufacturing power and economic health be taken out of state," said Allison Schieffelin Walker, chairwoman and CEO of The Lighting Quotient. "It's our mission to keep good manufacturing jobs here in Connecticut."
The rubber is ready to meet the roads for Google's self-driving cars
Google's self-driving cars have been garnering headlines for years now, and for the first time, they're ready to leave the safety of the test track and start driving on public roads, according to IndustryWeek. These cars, which represent the leading edge of self-driving automobile technology, could have a major impact on the tech and automotive sectors moving forward.
The cars are equipped with sensors and Internet-connectivity that control the critical functions of the vehicles. Google's engineering and design team has been at the forefront of this emerging technology, and success with this experiment could lead to a major cultural, technological and economic shift as self-driving vehicles come to prominence and change the face of transportation.